Welcome! BLB Press is an author-owned publishing company based in the United States.
Ordering Information:
Booksellers may order through major book wholesalers including Ingram Book Company and Baker & Taylor. Individuals may order from fine book retailers including Amazon using the affiliate links below.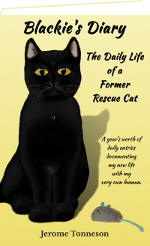 Blackie's Diary
Blackie grew up in a cat shelter. She was adopted and returned more than once due to an undiagnosed medical condition. Following her surgery, she finally found a loving "fur-ever" home. As she began this new phase of her life, she started recording her thoughts in a journal. Blackie's Diary contains 365 diary entries documenting the first year of her new life with her very own human.
Paperback - ISBN: 978-0-981242-2-5
Also enjoy four minutes of Blackie enjoying catnip.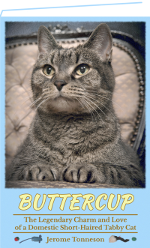 Buttercup is the true story of a simple but beautiful house cat. It is an account of her loving nature, her unique quirks, her confidence, her intelligence, and the unbelievable things she did during her life: from helping raise two adolescent cats that weren't her kittens, to protecting the house from intruders (four- and six-legged), to reminding her human that sometimes he simply needed to stop and pet the cat. In short, it is the story of all of the great things that made Buttercup uniquely Buttercup.
Paperback - ISBN: 978-0-9891242-0-1